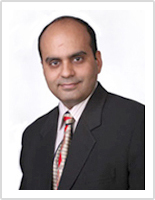 Director and CEO
Founder and Chief Executive Officer of Open Mind Services Limited, Naveen, an Electronics Engineering from the University Of Pune, India, describes himself as a learner and a teacher.
The self-motivated entrepreneur strives to act as a dynamic driving force behind the organization in an effort to bring it at par with the best healthcare outsourcing companies in the world.
Under his guidance, Open Mind Services Limited has grown to an eminent position in the consumer care and healthcare call centre circles.
Even his competitors agree that his commendable empathetic outlook towards customers and co-workers is worth emulating for every customer-centric organization that wants to create timeless customer value.
His ability in astutely combining resources, people, process, technology, and service offerings is most visible in the phenomenal growth of a small BPO, Silver Lining, established in 2003, to a strong Public Limited Firm, Open Mind Services Limited, with a well-established name in the field of Hospital and Healthcare Help Desk Services, Patient Relationship Management, and KPOs and BPO Consultancy.
Many people know him as a world-class Outsourcing Consultant to who has helped Knowledge Process Outsourcing companies develop revenue-generating strategies and execution programs from scratch to a position of smooth functioning.
He is recognized as an industry leader by Asia Outsourcing Congress and under his leadership, Open Mind Services Limited has won many coveted honours from organizations like The Times of India and Insight Success.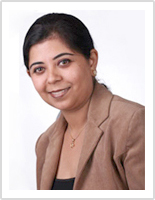 Managing Director and COO
A Post Graduate from the Panjab University, Rakhi started her career as an Independent business woman way back in 1996. She is instrumental in efficient operations of Open Mind Services Limited since its inception.
A certified Life coach and trainer of excellence, her leadership qualities and Operations Management skills at various levels has always been an asset to the company.
She believes that empowering employees to grow professionally is the fastest way to gain their trust and respect. That trust translates into employees' personal growth and helps them look at the world with an empathetic point of view.
Rakhi is an authority in helping healthcare organizations and hospitals in implementing outsourced call center solutions that make an enormous difference in their patient management solutions. Open Mind Services Limited's outsourced patient management solutions also help hospitals discover how to get unstuck while keeping their expansion plan on track and accelerate growth.
She is the driving force behind the operational success of the company by faultlessly managing its vast number of clients.
As the COO, Rakhi also manages business planning, vendor relationships, and cyber-security solutions to protect client data and networks to deliver seamless healthcare call center services.