Inbound Call Center
An experienced and professional outsourced call center services provider, our customer-centric team of well-trained executives offer a range of inbound call center services from our state-of-the-art inbound call center. Our services range from the general customer service to query resolving services to highly demanding claim processing services.
Our call center agents are professionally trained to deliver an outstanding customer experience to every caller in every conversation – be it an existing customer or a prospect looking to explore your company's products or services.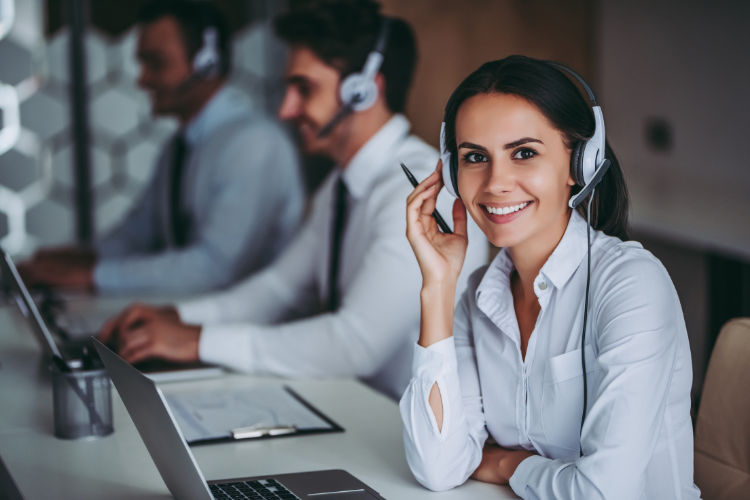 We adhere to strict data security measures in our call center operations as an ISO 27001-certified company. With the help of Open Mind Services Limited, you can build long-term relationships with customers and ensure that your company is recognized for its customer service.
Although we are open to receive and answer calls in any domain for your business, a few of our standard inbound call center services are as follows:
Customer Support Services – With over a decade of experience in delivering an excellent customer experience, we tick all the boxes to become your principal call center services provider. Our competently trained executives are recognized for consistently delivering services that meets customer expectation and at the same time, add more value to your brand equity.
Answering Services –Your prospects and customers expect precise answers to their queries. Our answering services ensure answer every call in a professional and responsive manner.
Billing/Invoice Support – Our inbound call center services are fully equipped to handle billing/invoice support for your customers. Our detailed reporting and meticulous data handling ensures your customers get the up-to-date, accurate data.
Refund Claim Processing – We consider refund claims more important than receiving a 5-star review! Our call center agents are instructed to process each such claim faster so that customers' trust in the brand either stays intact or is enhanced.
Inquiry Handling – Our detail oriented inquiry handling process is designed to handle customer inquiries appropriately and resolve them within a stipulated time. Our inbound call center executives are equipped with necessary expertise and experience to manage each inquiry efficiently.
Our Inbound Helpdesk Centers provide the following solutions to our clients:
Facility Management Centralized Helpdesk:

A centralized Facility Management helpdesk not only consolidates all the data of various products at one place, but also helps in maintaining their AMC records, reminding vendors about Pre-Maintenance, keeping track of the breakdowns etc.
All this is accomplished using our own inhouse developed comprehensive software. The process also helps in measuring the TAT of the various vendors – thus helping in future decisions.
This kind of process is ideal for businesses with multiple branches that require regular upkeep of their equipment. Some of the focus industries are Retail, Wholesale, Consumer Goods etc.
Our facility management service help the organization to hand-over the pressures related to internal facility services. We become a single contact point for the organization as well as the vendors. It helps in streamlining the process as all facility communication is provided to a single contact centre which relays the same to the concerned vendors and also follow-up for the completion of the communication. This helps in accumulating all the data as well as stream lining and improving processes.
White-Goods / Medical Equipment Complaint Center:

All businesses need a robust Consumer Connect center, wherein a customer can log his complaint and get the same resolved- be it Consumer Goods Industry, Medical Equipment, Industrial Equipment, White Goods Manufacturing or any other such industry where customers are paramount. Over the years, Open Mind Services Limited has excelled in this category of Complaint Management.
Our systems not only record the customers complaint on a CRM, but also make sure that the complaint is resolved within the specified time frame. While resolving every customer complaint, we also record important parameters like:
Response time of the technicians on a particular complaint
Time taken to resolve the issue
Reasons for Delay
Efficiency of the team
Recording above parameters and other data points gives the organization an accurate figure of the number of calls coming in, as also helps them in improving its own internal systems.
Our organization comes from a very proficient medical background. We are one of the leading organizations to provide backend support for medical equipments. We form a single connect point for all your customer related complaints. The complaints are then forwarded to the field staffs which help in speeding up the process. We also provide thorough communication to the customers through SMS and Email, which helps the customers to understand the process better. We have a follow-up and feedback system which helps organization to satisfy its customers better and to analyze employee productivity.
Education/ Student Helpline:
Our Education Call Center Services provide educational organizations and edtech companies with comprehensive customer service support through our multi-channel inbound contact center. A wide range of interactive touch-points are handled by our experienced team, including incoming calls, live chats, Messanger communication, email management, SMS / Whatsapp messaging, and IVRs.
We offer a range of remote call center support services for schools, colleges and academies, universities, training institutes, online training providers, E-learning companies, Massive Open Online Course (MOOC) providers, and other organizations in the education sector at cost-effective and scalable prices.
Call Center Services for eCommerce Industry & Technical Helpdesks
In addition to using today's technology to provide an omni-channel shopping experience, retailers, eCommerce companies, and technical helpdesks must also employ a strategy that combines both traditional and new customer service channels to provide a seamless, personalized, and high-quality experience for customers.
With Open Mind as your outsourced customer service partner, your website or eCommerce organization will benefit from our 24x7x365 multi-channel contact center.
With the help of talented personnel and the most advanced call center technology, our customer care executives can effectively address your customers' needs through a number of channels, including: inbound and outbound voice support, internet / live chat, email management and SMS / texting (mobile).
All interactions with your clients will be streamlined through the use of call center technology which includes an IVR, Automatic Call Distributor, Dialer, Voice Loger, Reporting Engine, and more.
Our customer service executives are trained in your brand values and are able to communicate what your brand represents with confidence and sensitivity.
For eCommerce players, the holiday season has a dramatic effect on footfalls and clicks. Open Mind can be a valuable outsourcing partner during the peak seasons of the year. With our experienced and technologically advanced staff, we can ramp up the teams assigned to your work. This enables us to provide you with high-quality customer service at every stage of the business and organizational expansion process.
Call Center Services for Banking, Financial Services and Insurance (BFSI) Industry
Our call center services are tailored to meet the needs of Fintech and BFSI businesses, including retail, corporate, investment banking, and insurance.
Our outsourced helpdesks are well capable of dealing with queries for various services such as savings, deposits, credit cards, real estate and mortgages, and loans; capital markets, such as investments and asset management; and insurance products, which include first party insurance, general insurance, auto, home, health, and life insurance.
We stay up-to-date on all the best practices for back office outsourcing, so you will experience a reduction in costs between 30% to 50% when you work with us.