Presently in the role of the Training lead with an exhaustive experience in conceptualizing training programs to address business challenges and enable an effective workforce. Especially adept at developing, facilitating and supervising training programs and modules.
Knowledgeable Soft Skills Trainer with a sound understanding of needed traits for workplace success and a strong ability to train employees in improving those characteristics. An English literature graduate (Gold medalist) with a professional certification in soft skills facilitation and TTT (Train the Trainer). Strong knowledge of soft skills affecting the overall functioning of various industries- BPOs, schools, colleges and educational institutes. Over 14 years of experience as a Voice and Accent trainer, soft skills trainer, motivational and personality development coach spanning various industries.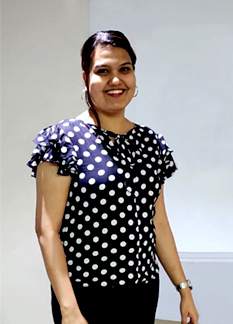 Disciplined, detail oriented, personable, passionate and diligent in approach to training which is skill-oriented and also caters to individual training needs. To create an environment at work which is productive, encouraging and supportive to all the employees
As a part of Open mind family, the goal is to align every effort towards the Mission of providing top quality services to the customers. Also sharing the vision of contributing to employee learning and development and they are the front runners of the organization.