An accomplished HR Leader with 16 years of rich experience in initiating and implementing various HR Policies, procedures, HR Services Delivery, Employee Engagement, HR Compliance, and culture building. She is a result-focused leader who delivers talent acquisition, retention and motivation solutions that help organizations to embrace differences, Diversity, Equity, and Inclusion at the workplace. She has always tried to create a well-motivated team that helps organization to make a "Great Place to Work".
Her sharp insights result from her laudable obsession with going to the root of a problem and finding the most appropriate solution.
Having started her career with Teletech Bharti she joined Open Mind Services Limited and spent 15 years in customer service-centric roles, learning, understanding the importance of communication, collaboration, and teamwork for the business.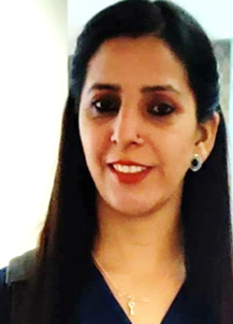 She has been a part of diverse organizations and industries, including Retail, Telecom, Utilities, and IT/ITES verticals. Her past experience includes leadership roles for our prestigious clients and handling the processes and projects for Bharti Retail, Bharti Walmart, Walmart India, and Times Internet. During her previous stint, she led a large and geographically dispersed HR team for managing overall HR and operational function.

Reena has been awarded with various recognitions and awards time to time such as Best Employee of the Year, Dr. Tarita Shankar Awards for Excellence by ETNow 2020, etc.