Customer Service – Consistency is the key to trust
As an entrepreneur or even an informed citizen, you must have heard the maxim of real estate and property developers: Location, Location, and Location- suggesting that the success of your business depends majorly on the location of your business.
Come to think of it, another major influencer that contributes massively to a business is Customer Experience. And what do we have here that could emulate the location allegory? Consistency, Consistency and Consistency
ThIt's not what we do once in a while that builds a robust relation; it's what we do consistently.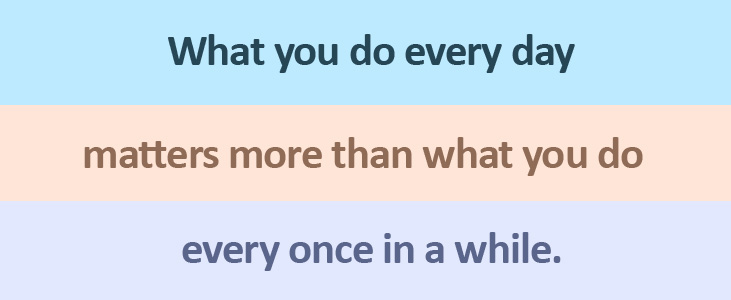 Of all the myriad objectives and significances of a winning Customer Experience strategy, Consistency or predictability in expecting and delivering a superior experience every single time tops the customer mind space- they want the experience to be as seamless as the last successful one.
You just can't hide behind excuses and apologies because every single inconsistent (also read as unpredictable, unsatisfactory or inadequate) customer experience creates a dent in your reputation and losing that customer could well be the proverbial final nail in the coffin.
I haven't yet met a solitary entrepreneur who was willing to forego a customer for a bad experience from organization's end.
How do you ensure that each of your customers experiences consistently excellence in services in every transaction?
Here are a few different approaches through your organization can deliver a consistently successful customer support experience:
Here we go:
Keep your service quality consistent. Customers choose you for a reason, and unless you've found a brilliant logic to change that motivation, never try to fix the winning feature. Your organization can try to add value beyond your superstar service by introducing related packages but if your core competency is not doing what it was supposed to do, expect the customer to find another company sooner than you can realize.
Keep your communications across channels consistent. Gone are the days when customers were supposed to contact you through phone or emails; diverse social media channels and messaging apps have opened up wider avenues where a customer can connect with you with the same expectations- a quick solution. The digital revolution is no longer a revolution- it has become a part of life so take extra precautions to present a consistent visage across all media.
Attitude of your people should be consistent. No, hiring robots is not a solution; all I'm suggesting is to keep positive customer care at the top of agenda! Regardless of calling today or connecting via Facebook a week later, whether Rahul or Amit speaks with the customer – the positivity to solve every little complaint and intent to genuinely listen to apprehensions should be there to feel every single time.
The big idea is that when someone talks about your company with friends, they instinctively come out with things like "They are always so eager to help" or "Again, I had the same fantastic experience with their customer support!" That consistency is what builds up confidence, brick by little brick. And confidence leads to trust and loyalty and finally revenue appreciation.
At Open Mind Services Limited , we ensure we listen more than we say; that is the foundation of a great relation. Our customer support executives are educated the same values and skills to improve customer attrition, and maximize engagement for every client of ours.