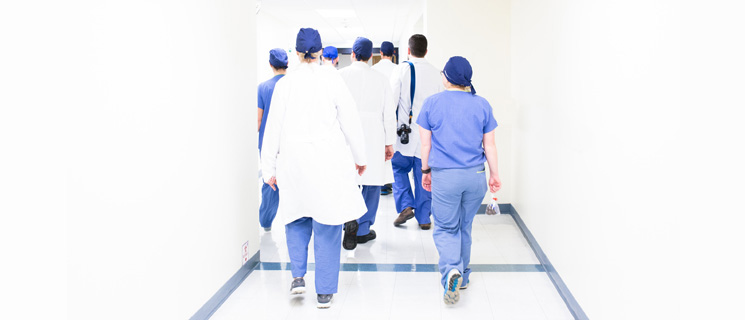 Best price points and patient centric care are just not enough to succeed in a saturated market with abundant choices. Hospitals and healthcare providers are increasingly realizing that healthcare consumers expect remarkable service, support, and experiences across all stages of the buyer's journey.
As a result, hospitals now need to capitalize on every patient touch point—from handling the first inquiry to actively supporting proactive health, ongoing care, and recovery—to successfully acquire and retain patients for life.
The first step to achieve this is speaking with a unified voice across all mediums and consistently positive experiences that customers can share with their friends and families.
As call centers handle more than 65 percent of all hospital consumer interactions, it's crucial that the hospital call center is trained and primed to deliver these types of experience.
Quantifiable studies by a number of acknowledged sources indicate that by 2022, customer experience will overtake price and product as the key brand differentiator.
Our internal research reveals that unfortunately, traditional hospital call centers often struggle to provide seamless patient experiences. This is a more of a consequence of indifferent awareness than a willingness to upgrade.
Traditional call centers were designed primarily to handle as many calls as possible about a limited set of common scenarios. They weren't built as strategic, value-adding assets. But as a mean to minimize the cost of back-office functions, with primary focus on response times, calls per hour, abandonment rates, and workforce optimization—metrics that are essential but impersonal.
The value of quality healthcare services shall continue to gain more importance. As hospital consumers' expectations grow, there is a mounting need to constantly develop and revise customer support tools. Hospitals and healthcare providers that are willing to do this are most likely to succeed.
To solve the challenges of the traditional call center and expand its capabilities, we at Open Mind Services Limited suggest our clients to implement a customer engagement center.
A hospital customer engagement center is an optimized call center that integrates with our in-house healthcare CRM data to deeply personalize customer interactions, allows us to be more proactive, and enhance caller satisfaction.
Our hospital and healthcare engagement center agents have access to comprehensive caller profiles rich with CRM data, giving them the information necessary to tailor conversations to the individual and engage them holistically.
In a highly competitive market, it's best to bank on customer service as a predictor of customer loyalty. Companies that invest in good support not only gain through increased loyalty and more successful upsells, but also through new healthcare consumers who are willing to pay more for a better customer lifecycle experience.
Open Mind Services Limited provides customer engagement services to leading hospitals and healthcare providers to transform the healthcare experience for their consumers, patients, and administration.
Powered by cutting-edge data and analytics, our outsourced call center solutions enable hospitals to effectively communicate care options that result in increasing profits and market share, while optimizing network utilization.
Many of the top health systems have selected Open Mind to thrive in today's hyper-competitive and rapidly changing healthcare environment.